Couscous Cakes. In a medium bowl, mix together the couscous, cilantro, egg, egg yolk, coriander, lemon zest, salt and pepper. Sprinkle the flour over the mixture. In a large bowl, combine couscous, chickpea mixture, eggs, and lemon zest, mixing until well combined.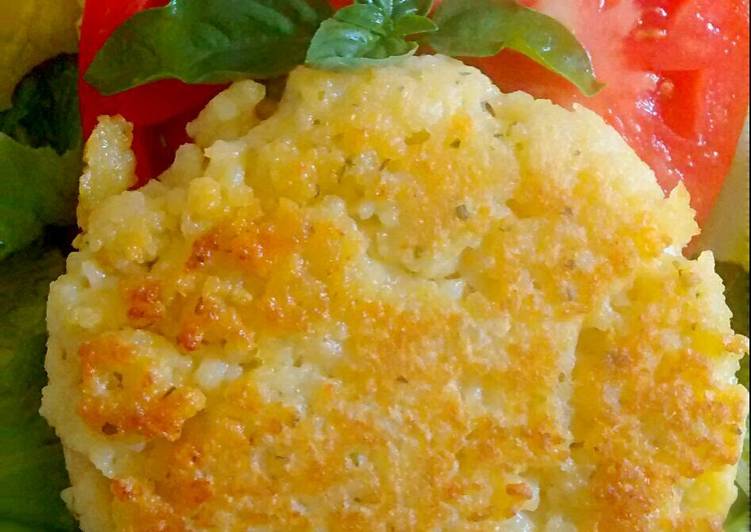 There are three main types of couscous. Moroccan – this is the smallest of couscous and the most common found in the stores; Israeli – a larger couscous. These couscous cakes are a busy person's lifesaver. You can have Couscous Cakes using 6 ingredients and 8 steps. Here is how you cook it.
Ingredients of Couscous Cakes
It's 2 cup of Cooked Couscous (I always use Roasted Garlic flavored).
You need 2 of Eggs, beaten lightly.
It's 1/4 cup of parmesan cheese.
Prepare 1 tbsp of Fresh basil, chopped.
Prepare 2 tbsp of Flour.
Prepare 1/4 cup of Olive Oil.
They are a great make-ahead dish and freeze fantastically. If you find yourself constantly on the go but want a healthy meal or snack, this is the perfect recipe for you! In a large non-stick frying pan, heat the oil over medium heat. Repeat with the remaining couscous mixture.
Couscous Cakes instructions
In a bowl, combine couscous, eggs, cheese and basil. Mix well with hands..
Sprinkle flour over the top and mix again..
Heat olive oil in medium skillet..
Form couscous mixture into patties. (I use a 1/2 cup measuring cup, pushing the mix in lightly and then turning it out into the pan).
Gently press the cakes down with a spatula to flatten slightly..
Brown on both sides until golden, about 3 minutes per side..
Drain cakes on paper towels to remove excess oil.
Serve. I always like to serve with thickly sliced tomatoes, but they are delicious all on their own..
Serve the couscous cakes with mango chutney. I am always on the lookout for unique couscous recipes. It's so easy to make but DH thinks it's bland. I saw Giada make cakes one day with the couscous so that inspired me to create my own. This was a hit with my family.