Couscous. I'm borrowing the name from Pasta Primavera which, like this recipe, takes advantage of fresh, seasonal, green produce. Couscous is one of those ingredients to keep stocked in your pantry. It's a form of pasta (so it's hearty and satisfying) and cooks up in a flash.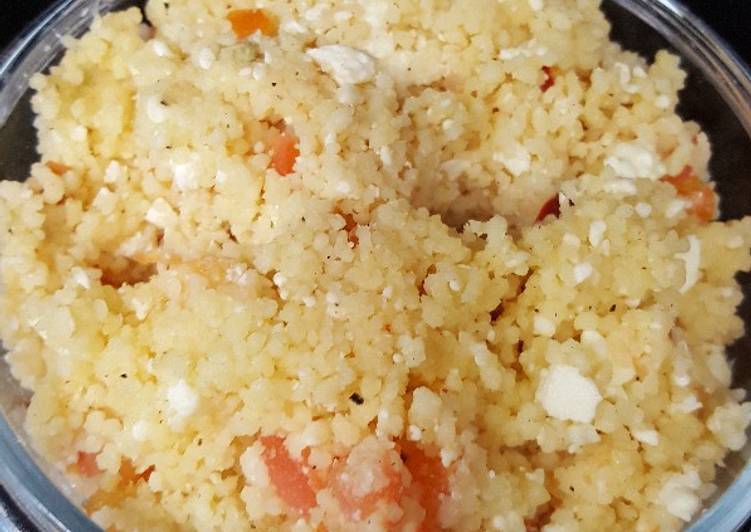 Durum wheat is the natural species of wheat from which semolina flour is created before it's made into couscous. Couscous is a North African dish made from tiny steamed balls of semolina flour. Though we think of it and cook it as a grain, couscous is actually a type of pasta. You can have Couscous using 9 ingredients and 8 steps. Here is how you achieve that.
Ingredients of Couscous
You need 3 cups of couscous.
Prepare 4 1/2 cups of water.
Prepare 2 tbsp of butter.
You need 3 of tomatoes.
Prepare 1 of pepper (or equivalent in hot peppers).
You need 750 g of feta cheese.
It's 2 of lemons.
Prepare of Salt.
You need of Pepper.
It's one of the easiest, fastest, most versatile side dishes you can make. And it's especially wonderful with stews or saucy main dishes. Use too much liquid and your couscous will be a bit on the sticky side. Couscous is a side-dish staple in North African cuisines.
Couscous step by step
Bring the water to a boil..
Add the couscous to the water. Stir so water covers all the couscous. Cover and remove from heat..
Cut tomato and pepper(s) into small pieces..
After 5-10 minutes, fluff couscous with a fork..
Add salt and pepper to taste..
Squeeze lemon juice into couscous, then mix..
Add tomatoes, peppers, and crumble feta cheese into the couscous..
Mix well then serve..
It's basically tiny balls of pasta made from a kind of flour called semolina. In North America, the couscous you'll find at the grocery. Couscous is amazingly easy to cook. The word couscous is derived from Arabic, but the dish is typically considered part of North African cuisine which includes Libya, Morocco, Tunisia, and Algeria. Still, it also plays a large role in Middle Eastern dishes.