Fried rice with cauliflower.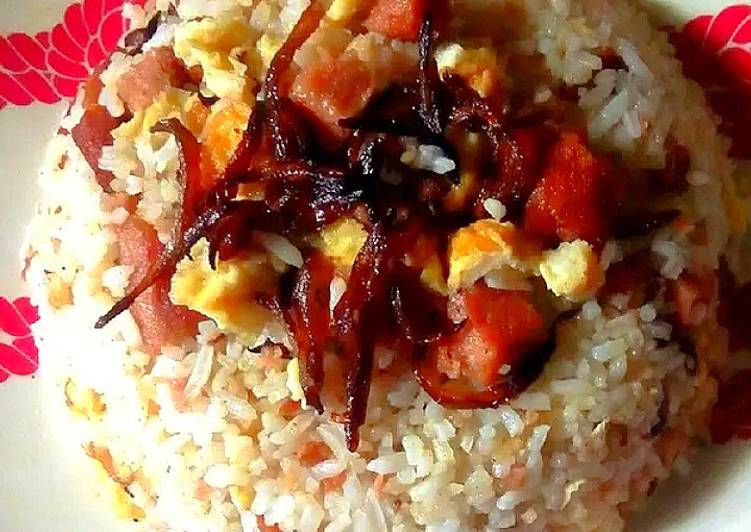 You can have Fried rice with cauliflower using 13 ingredients and 4 steps. Here is how you achieve it.
Ingredients of Fried rice with cauliflower
Prepare 2 cups of cooked rice.
You need 3 tbsp of palm oil or any available cooking oil.
Prepare 1/2 cup of cauliflower – florets.
You need of small amount of fried egg- cut in flakes.
Prepare of small amount of ham or chicken or fish fillet(choose any).
Prepare 1 tsp of ground pepper.
It's 1 tsp of seasoning(msg, Knor or any of your choice).
You need 1 tsp of salt.
It's of minced garlic.
You need of Optional only: saffron or turmeric powder as additional spices.
You need of Optional: green peas.
You need of Optional: fried nuts(cashew, almond, peanut) raisin for toppings.
You need of TOPPING: crispy fried onion.
Fried rice with cauliflower instructions
In a large pan, stir fry egg and cut in flakes.
Stir fry ham, chicken, bacon or fish flakes- (choose any of these) and put in a separate plate together with the egg. Using the same pan & oil, fry the cauliflower until brown..
Using the same pan, add oil if necessary then put the cooked ingredients and rice. Add seasoning & spices. Add green peas if available(optional) and stir constantly until the ingredients mixed well with the rice. Cook for few minutes..
Put the fried rice in a plate and add topping. To make crispy fried onion topping: slice medium white onion into strips(thinly cut) and stir fry in oil over medium heat. Wait until the onion strips become brown & crisp. Sprinkle the crispy fried onion on top of the fried rice, add fried nuts or black raisin if available..