Morrocan Stew. Pour the vegetable broth into the pot. The olives and cinnamon in this stew give it a nice Moroccan flavor. This dish balances sweet and savory with tangy Kalamata olives and golden raisins.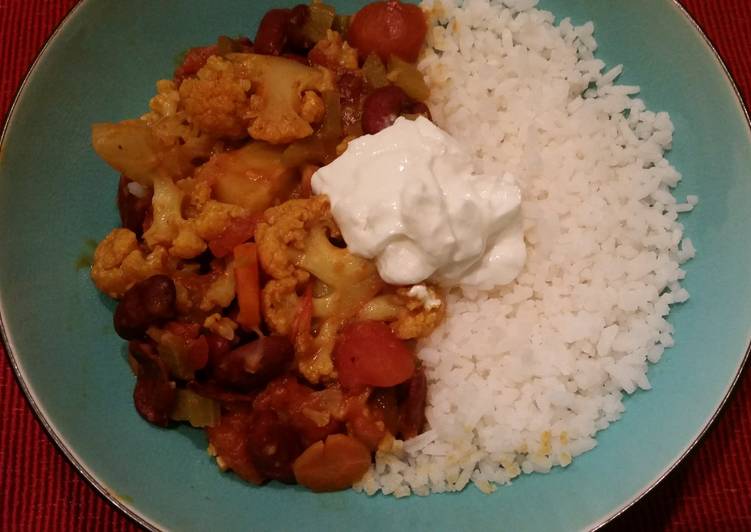 The spices complement a medley of squash, chickpeas, kale, golden raisins, and tomatoes simmered to perfection. DIRECTIONS Saute the onions and garlic in olive oil until onions are translucent. Moroccan Beef Stew is hearty, flavorful and perfect for a chilly night! You can have Morrocan Stew using 16 ingredients and 5 steps. Here is how you achieve it.
Ingredients of Morrocan Stew
It's 1/4 of onion, chopped.
Prepare 1/4 cup of celery, chopped.
It's 1/2 of carrot, chopped.
You need 3 clove of garlic.
You need 1 cup of cauliflower, chopped.
Prepare 1/2 can of kidney beans.
It's 1/2 can of diced tomatoes.
Prepare 1/2 tsp of ground cumin.
Prepare 1/2 tsp of turmeric.
Prepare 1/2 tsp of curry powder.
Prepare 1/2 tsp of cayenne pepper (omit or lessen of you don't like it too spicy).
It's of salt and pepper.
Prepare 1 of vegetable broth or water, enough to almost cover all your vegetables (about 2-4 cups depending on how much you make).
Prepare 1 tbsp of olive oil.
Prepare 2 of servings basmati rice (or white or brown if you prefer).
Prepare 1 tbsp of Greek yogurt.
It's perfect slowly simmered on the stovetop, in the oven or pressure cooker. Moroccan Vegetarian Stew This fragrant, spicy chickpea stew can be served over couscous or with warm pita bread. Try topping this Moroccan dish with a dollop of yogurt or sour cream to cool it down. —Sonya Labbe, West Hollywood, California Well, it takes ideas from Moroccan cuisine and translates them into an everyday stew recipe. The chickpea stew tastes complex and fresh: it's full of cumin, ginger, a bit of cinnamon, and topped with fresh cilantro, a squeeze of lemon and a touch of Greek yogurt.
Morrocan Stew step by step
Chop up carrot, celery, onion, garlic, and cauliflower..
Heat olive oil and add onion, celery, and carrot and let cook on medium for a few minutes. Then add the garlic and cook another additional minute or so. Add in the cumin, turmeric, curry powder, cayenne, salt and pepper and cook the spices in for another couple minutes..
Add in the chopped cauliflower (uncooked) and toss to coat in the spice mixture. Cook for just about a minute making sure nothing is burning..
Add tomatoes and kidney beans. The pan will be very hot! Stir quickly to coat everything and then add your broth or water after mixing everything before anything has a chance to burn or stick to the pot. You don't want everything to be totally covered, there should be just enough to simmer in without being too liquidy. Partially (mostly) cover with a lid and let everything simmer for about 15-20 minutes or until cauliflower is just about tender and liquid is mostly boiled off. You may want to check in and give it a stir or two and make sure there is still enough liquid from time to time..
When the cauliflower is tender, remove the lid and let most of the additional liquid cook in and boil off. When you have a nice stew-like texture and everything is tender, and liquid mostly boiled off, it's ready to eat! I serve this with basmati rice, naan bread, and a dollop of Greek yogurt is a super nice addition (an absolute must in my case!) of flavor and to meld in with all the spices..
Of the Moroccan elements, the easiest to spot is the spice blend! In a medium-size bowl, season the meat evenly with the salt, pepper, and cinnamon. Add the garlic and spices, stirring continuously. Add the vegetables in the order given above, so that the starchier vegetables will cook the longest. Sauté after the addition of each vegetable until its color deepens.